1. The Amphitheater
One of the most impressive cliff faces on earth, this towering line of precipitous cliffs runs over 5km, at more 1 000 metres (3200 ft) high. This makes it 10 times the size of El Capitan's most famous face in Yosemite in the USA. Just to see it is awe-inspiring.
The Amphitheater is within the Royal Natal Park, which is well run and easy to get to. Mont-Aux-Sources, South Africa's highest peak at just over 3 254 metres (11 000 ft), is part of the same complex. In summer it's verdantly green with spectacular thunderclouds gathering late in the afternoon, while in winter it's often under snow, and the grasses make the landscape yellow under clear blue skies. It's worth checking out in both seasons.
2. Hike to see the world's 2nd highest waterfall
Many rate this as the best hike in KwaZulu Natal – a trek through The Royal Natal Park to the Tugela Falls, which plunges over 948 metres (3,100 ft) from the Amphitheatre's clifftops. The hike is 3 hours up to the point where you look up at the falls and 2 then hours down, along pathways lined with ferns and wild flowers, passing through patches of yellowwood forest. It's really not too strenuous, but take plenty of water as much of the way you're hiking above the river.
You can pick up a map when you sign in at the park. There are lots of other hikes within the park, and the staff there can give you all the details.
3. Bushman paintings
Bushman or San people have left behind delicate galleries of their art in caves all over the 'Berg. A short guided tour to a cave in the Royal Natal Park can be booked – call ahead to confirm the time. You'll get a spectacular view of the Amphitheater from the path.
4. Cascades
Pack lunch & take an easy stroll from the car park in the Royal Natal Park to this series of cascading falls, with trees around for shade and comfy rock formations to lounge around on in the sun. The water's perfect for drinking and there are several pools for swimming.
5. Adventure activities
All Out Adventures has an amazing collection of equipment in a clearing in a forest near Montusi Mountain Lodge and The Cavern Resort & Spa, offering cable tours, paintball, quad biking, bungee bounce, zip line, king swing and flying trapeze – if you're into this mad stuff, you'll be entertained for hours. If not, they do good very good cake and coffee, so it's still worth checking out.
6. Running & MTB trails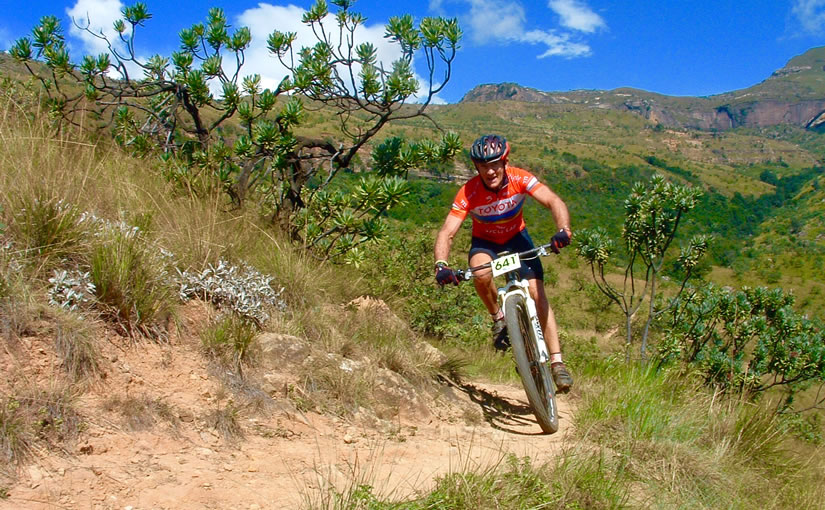 The area has a 100km network of mapped and marked trails for running or riding, at different levels of difficulty. If you're lucky enough to be staying at Montusi Mountain Lodge, they can arrange mountain bike rental as well as show you all the trails. And they have fabulous stand-alone suites in beautiful grounds, with sweeping views to the mountains – perfect to recover afterwards. And book an extra night – you body will appreciate it.
7. It's super-easy to get to
From Joburg, take the N3 highway for 2.5 hours to Harrismith and turn right – and the scenery begins, with a beautiful drive past the Sterkfontein Dam (the R74 is now in great condition) and down the Oliviershoek Pass. From Durban it's an even easier drive, via Bergville.
If you would like any suggestions on where to stay, what to do and what special offers are on please contact our DrakensbergExperience.co.za booking office today and we will help with pleasure